Posted at 4:00pm -- 2/24/2010
Richard Ash: 2010 Michigan Wolverine
Height: 6'4
Weight: 263 (rumored to be 300lbs. now)
Position: Defensive Tackle / Defensive End
High School: Pahokee (Florida)
Head Coach: Blaze Thompson
Recruiter: Coach Rod Smith
Class: 2010 Michigan Wolverine Recruiting Class (Signed)
Overview:
Richard is a classic Coach Rod recruit, a bit of a tweener, who runs well and shows a decided defensive mentality. Richard is a solid, versatile athlete, capable of playing defensive end or defensive tackle at the college level.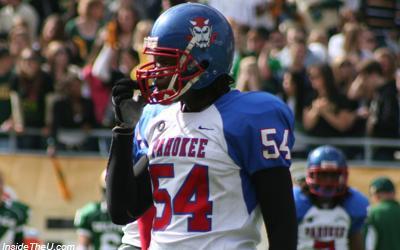 Strengths:
Richard has good get off and a solid first step. He uses his hands very well and shows a nice swim move. Richard separates well with his hands and gets good penetration. He has good stop and go and retraces his path well.
Needs work:
Richard tends to play a bit high and therefore sometimes loses leverage. He also gets too far up field and must learn to play laterally. Richard shows just average closing speed and burst.
Richard reminds GBMW of this former Michigan Wolverine:
James Hall.
#54
Red-shirt or play his freshman year:
Richard would likely benefit from red-shirting, but may be needed for immediate depth.
#54
Where do they rank him:
ESPN: 3-Star .. #54 at position.
Rivals: 4-Star .. #25 at position.
Scout: 3-Star .. #52 at position.
Final Thoughts:
Richard is rumored to now be around 300 lbs. (from the coaches press conference). So will he maintain that weight or lose some once Coach Barwis gets Richard under his charge? Hopefully he does not lose his quickness and athletic ability with the added weight. With the added weight Richard will probably be a defensive tackle, but if he slims down could play defensive end as well.
Written by GBMW StaffGo Blue -- Wear Maize!