Posted at 4:00pm -- 3/1/2010
Demar Dorsey: 2010 Michigan Wolverine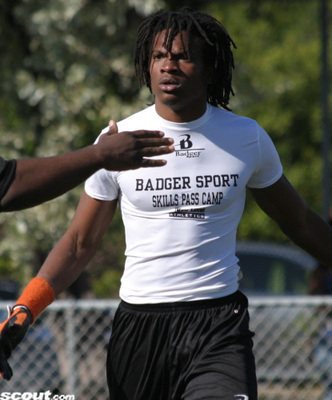 Height: 6'1
Weight: 175 lbs.
Position: Cornerback / Safety
High School: Boyd Anderson Cobras (Florida)
Head Coach: Mark James
Recruiter: Coach Calvin Magee
Class: 2010 Michigan Wolverine Recruiting Class (Signed)
Overview:
Demar Dorsey is probably the number one overall athlete in the Michigan 2010 class; simply he has super athletic ability. Demar is capable of playing safety, corner, split end, and has the ability to be an excellent special teams player.
Strengths:
Demar has super movement skills, excellent quickness, a smooth easy backpedal, a dynamic burst and make up speed, his feet never stop moving. He is explosive and sudden with the ball in his hands, is not afraid of contact, and shows a physical side to his game.
Needs work:
Demar's tackling is only average, he needs to do a better job of wrapping up. Also, he has some problems getting off blocks, gets lost in coverage and does not always maintain proper leverage.
Demar reminds GBMW of this former Michigan Wolverine:
Denard Robinson.
Red-shirt or play his freshman year:
No he plays right away.
Where do they rank him:
ESPN: 5-Star .. #2 at position.
Rivals: 4-Star .. #13 at position.
Scout: 4-Star .. #19 at position.

Final Thoughts:
Dorsey has athletic ability to either play cornerback or safety at Michigan. He has very good size and still as great speed/quickness. He has the total package and is one of the very best players in the 2010 recruiting class. He has quick feet, instincts, and is quick in transition. Be interesting to see where Michigan starts him out at either cornerback or safety, but we expect to see him on the field very early and would assume they try him at cornerback first and then maybe move him to safety in a couple of years if needed.
Written by GBMW Staff
Go Blue -- Wear Maize!